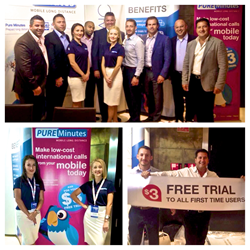 Leading mobile long distance company Pure Minutes is pleased to announce its participation as an exhibit sponsor in the Wholesale World Congress on September 3-4th of 2014 (link). The event, which took place at the famed Meliá Madrid Princesa in Madrid, Spain, hosted more than 240 companies in the wholesale telecom industry.
2014 marks WWC's 4th year as an event bringing together companies with the motto of "business in action," allowing those in wholesale telecom to negotiate business for two consecutive days. With a focus in voice and SMS, this year's WWC saw an increase in the volume of participating companies, spanning over several floors of the Meliá Madrid Princesa.
Pure Minutes (link) is a leading prepaid long-distance service for international callers, with a focus on affordability and convenience. Through the Pure Minutes Bilateral Group, the purchasing arm of the Pure Minutes retail division, better pricing and quality are secured through strategic alliances, providing subscribers with high quality at the lowest rates possible. Pure Minutes' client base is rapidly expanding, with active subscribers generating high volumes of retail voice traffic in all regions of the globe.
Eric Ramos, President of Pure Minutes, shared, "This year's WWC was an honor to be a part of, allowing us to expand our business ventures and continue to uphold our promise of affordable high-quality service for our subscribers. It was an extraordinary opportunity that enabled us to establish new alliances across the globe for the benefit of our rapidly-expanding consumer base. Madrid welcomed us with open arms, and we look forward to being a part of next year's WWC."
About Pure Minutes
Pure Minutes is a leading provider of prepaid international long-distance service. We pride ourselves on our affordable communication solution that offers flexibility, portability, and simplicity for both landline and mobile users. With our revolutionary identification system, subscribers no longer need calling cards or complicated PIN codes – and can continue with their current phone providers. We offer competitive international rates with no hidden fees, no maintenance fees, no contract required, and no expiration on minutes. Pure Minutes service is available for purchase on the web and at many convenient retail locations worldwide.
Corporate Office:
45 Broadway, Suite 1440
New York, NY 10006
Phone: 212.796.6112
Customer Support:
Phone: 866.558.4169
Email: support(at)pureminutes(dot)com
Follow us on Facebook (facebook.com/PUREMinutes), Twitter (@PUREMinutes), and LinkedIn (PUREMinutes, LLC) for updates.